Chicago Web Templates
Services | Web Template Design
Below are some of the current Web templates we have available for purchase. The Z Plane is offering special rates on complete development services for any of the templates listed below.
Please contact us to inquire about how we can customize these templates to fit your needs.
Day Spa and Salon Web Template - Puchase Today for $10!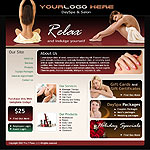 Project Type:
Small business, professional services
Details:

Custom Web Template Design